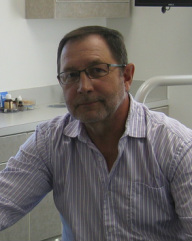 Charles P. Pearson D.D.S.
Practice history:
St. Apollonia Dental, formally Dental Associates of Troy, was established in 1983. In January 2004, our facility was moved fromTroy, MI to our new modern facility in beautiful Sterling Heights. We renamed our practice at that time to St. Apollonia Dental in honor of the Patron Saint of Dentistry.
Education & professional affiliations:
Dr. Charles Pearson is a graduate of University of Detroit Mercy School of Dentistry, Class of 1982; Class President. He is fully accredited and has over 30 years of private practice experience. He is well versed in multiple dental procedures. Dr. Pearson has an impeccable reputation amongst his peers and was voted as a "Top Dentist 2012" in Hour Detroit Magazine.

Personal interests:
Some of Dr. Pearson's Hobbies include: Golf, Hunting, Fishing, Woodworking, Gardening.
Philosophy of care:
Here at St. Apollonia Dental we offer state of the art technology and techniques in a warm, clean, and family-friendly office. Patient comfort and pain free delivery are top priorities as is prompt service. We know that your time is valuable and we strive to stay on time and not keep our patients waiting.
Most dental procedures can be completed under one roof. We welcome all patients including: Children, Adults, Geriatrics, and Patients with disabilities. In short, our mission is to provide excellent service in a cheerful, honest, and painless setting.
Sleep apnea is a deadly condition.
Call 586-323-1320 today for an appointment. Don't wait any longer. Start your recovery today.
Sleep Apnea Sterling Heights MI, Snoring Sterling Heights MI, CPAP Alternative Sterling Heights MI, CPAP Therapy Sterling Heights MI, Oral Appliance Sterling Heights MI, Obstructive Sleep Apnea Sterling Heights MI, Complex Sleep Apnea Sterling Heights MI, Central Sleep Apnea Sterling Heights MI, Loss of energy Sterling Heights MI, Airflow Disorder Sterling Heights MI, Loss of oxygen Sterling Heights MI, Oxygen Deprivation Sterling Heights MI